OUR HISTORY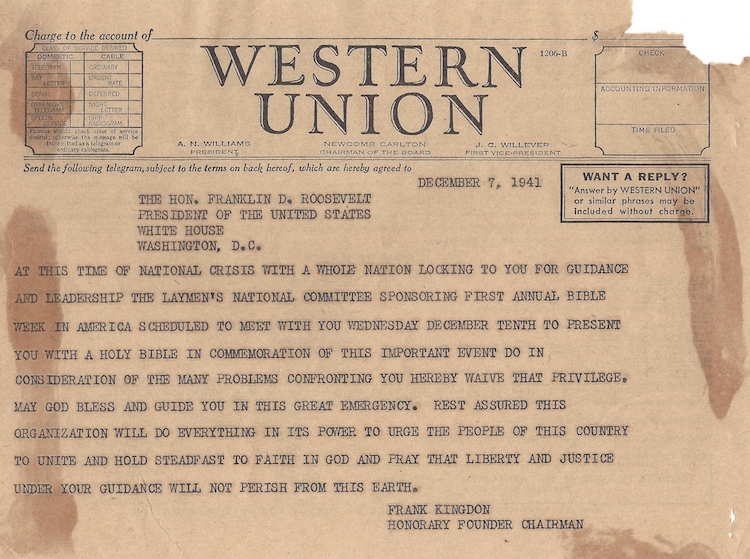 In 1940, a group of New York City business leaders were concerned about the state of mind of the American public in light of the rise of Hitler, Stalin, and Mussolini in Europe. They decided to form the Laymen's Bible Association to encourage Americans to read the Bible in order to have hope in God.
These businessmen were invited to the White House to commemorate the first National Bible Week and also by NBC to come and read the scriptures on the radio all day. The were due to read on air on December 7th, 1941—but then tragedy struck—Japan attacked Pearl Harbor.
The leaders of the association telegraphed the President voicing their support and prayers for him and told him that of course they would not come to the White House. However, they received a phone call from NBC asking if they would still come and read the Bible on air between the news reports about Pearl Harbor and the ensuing declaration of war.
Radio stations across America relied on NBC to get their international reports on air for local audiences. So on December 7th, 1941, while hearing about the devastation of Pearl Harbor, Americans heard the Word of God.
Today the National Bible Association continues to encourage people to read the Bible. The National Bible Association works with business leaders, the Pentagon, Congress, state leaders and legislatures, as well as major American cities to hold events and encourage Bible literacy across the country. Additionally, the National Bible Association provides Bibles with specialized resources and Bible studies to first responders and soldiers across the country.
To Receive Monthly Bible Quotes for Better Living from Admiral Barry Black – current – Chaplain of the U.S. Senate and formerly head of all U.S. Chaplains of the Army, Navy and Air Force.
Please enter your email address below!