NATIONAL BIBLE WEEK

---
NATIONAL BIBLE WEEK – WE ARE CELEBRATING OUR 77TH NATIONAL BIBLE WEEK THE WEEK OF 

NOVEMBER 18-24

 TO HONOR GOD'S WORD. THE U.S. CATHOLIC COUNCIL OF BISHOPS HAS DESIGNATED THIS WEEK ALSO FOR ALL U.S. CATHOLIC'S TO CELEBRATE GOD'S WORD.

Join us and others around the world, as we celebrate the Bible and participate with us as we honor the scriptures through the International Day of the Bible on Sunday November 18th, 2018.
---

HOW IT ALL BEGAN.
Since 1941, starting with President Franklin Delano Roosevelt, every US president has declared the week of Thanksgiving, National Bible Week. This, our 77th year, we again commemorate and honor God for giving us His Word.
The National Broadcasting Company (NBC) which was a leading national radio station at the time, invited the founders of the National Bible Association to read the Bible on air all day.  At the same time, the leaders of the National Bible Association were invited by President Franklin Delano Roosevelt to come to the White House for the following day to present him with a Bible to inaugurate the first National Bible Week. These glorious plans were in place but tragedy interrupted them. The day that they were going to read the Bible on NBC radio was December 7th, 1941, the Japanese attack on Pearl Harbor.
The founders sent President Roosevelt a telegram telling him that they and the nation would be praying for him and that of course they would not attempt to come to the White House. NBC called and told them that though they could not read the Bible all day on the air, would they come to the studio and read the Bible on air between the news reports about the disaster.
Radio stations across America piggybacked on NBC's programming at this point as they were only one of the few broadcasters nationwide who at the time had same day international coverage. So that day, Americans heard the comforting words of the Bible as they contemplated the worst single day foreign attack on US soil in history.
Please watch our video below
This is the telegram the new National Bible Association sent to President Franklin D. Roosevelt telling him that because of the attack on Pearl Harbor, they did not want to take up his time at the White House.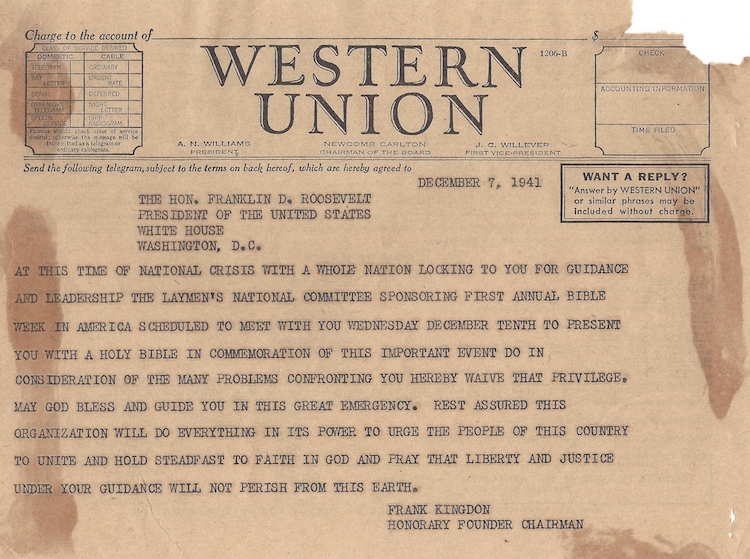 To Receive Monthly "Bible Quotes for Better Living" from Admiral Barry Black – current – Chaplain of the U.S. Senate and formerly head of all U.S. Chaplains of the Army, Navy and Air Force.
Please enter your email address below!